02.15.02 - CoKoBytes 8 > Love Makes Things Happen

Wondering what's going on with CoKo? Well we're about to tell you. CoKo is starring in a new play called "Love Makes Things Happen". The other stars of the play include Dawn Robinson of En Vogue, Kevon Edmonds of After 7 and Joe Torry. The play is produced by Kenneth "Babyface" and Tracey E. Edmonds and it is sure to be a night that all who attends can remember and enjoy.

"...the play is about a good-looking, sharp-dressing, soul sistah at the crossroads of an ill-fated relationship. One night,while exiting the company elevator, she bumps into Chauncy Brown. He is handsome, charming and single. It's all good! Well almost. Now Sheila, who makes six figures a year, has to decide if she can really love a man who only makes six dollars an hour."

"For an evening of laughter, singing and inspiration, don't miss the tenth theatrical event from the writer that bought you the classic plays 'Mr. Right Now', 'His Woman His Wife', and 'The Fabric of a Man'..."

Be sure to catch our queen of voices in her acting debut, "Love Makes Things Happen". For dates, locations & times, go to http://www.cokocure.com and look for the news headline.
11.21.01 - New Discussion: Who Did It Better? RCA Vs Simitar

Celebrating the ten year anniversary and success of SWV, RCA Records released the "Best Of SWV" on November 6, 2001. Interestingly, there are glaring differences between this album and the 1999 "SWV: Greatest Hits" tribute from Simitar/Beast Records.

A Greatest Hits album is supposed to provide the consummate collection of HIT singles that a group will be best remembered by. As dedicated fans, here is your opportunity to critique these two "best of" albums. Which project did SWV's discography justice? For example: the track selection--were there certain hit singles or soundtrack contributions missing? Which album do you prefer over the other? Which package had better art direction? What about the liner notes?

Please give both albums a numerical grade: 1="Weak", 2="Gettin' Funky"--But Needs Work, 3=Good, 4=Excellent: "You're The One"! Then conclude by describing how this last SWV title would have been promoted if released from YOUR record label!

Which project did SWV's discography justice? Which album do you prefer over the other? And which package had better art direction?

Join This Discussion
11.20.01 - The Fan Files: Are you a member?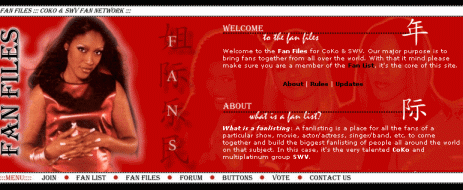 Here at CoKoCure.com, we try to make the CoKo experience the very best. New at The~Cure is the new "Fan-Enhanced" Fan Files. The Fan Files is the CoKo & SWV Fan Network for CoKo & SWV fans all over the globe. The main feature in this brand new site is the Fan List, or what many of you already know as The 'F' Files. The purpose of the Fan List is to showcase how many fans the girls have and to show how diverse they are. When you view the site remember that if you were a member of The 'F' Files, then you were automatically added to the Fan List. If you are a true fan, then you are or need to be on that list. CoKo & Lelee definately view the site. Wouldn't it be nice for them to see your name?
In the transition we have moved each and every FAN-based interactive tool from CoKoCure.com, to The Fan Files. So Da Wishin' Well, The FanBook and CoKo/SWV Fanantic have all been moved to the new site along with the new Fan List. This site is totally fan driven. Help us show the world that CoKo & SWV are the best of the best and will always have TRUE fans. Go to The Fan Files!
11.08.01 - CoKoBytes > 6: Greatest Hits - Now Or Never!

We strongly encourage any fans who haven't purchased the "SWV: Greatest Hits" (released on Simitar/Beast in 1999) to do so on sight. This compilation has been discontinued from print, and our regional sources report that retail quantities are very low. Simitar's album contains 3 never-before-released tracks. "Can't Cope" features LeLee on lead vocals (her only other published lead vocal was on "Don't Waste Your Time" from 1996's "New Beginning"). "Surprise Me" and "Mystery" feature each of the girls taking a turn at the lead mic. Also included is the '96 Anthem-ALLSTAR Remix of "You're The One" (previously released in 1996 on the original maxi-single). However, once this album's quantities are depleted, there will be no reordering.

On November 6th, 2001, RCA Records dropped "Best Of SWV" in stores. This compilation will be the only active "greatest hits" package available and will in effect, obsolete the Simitar release. "Best Of SWV" is being published as a BMG Special Catalog item. This will also serve as the final SWV title from RCA Records so be sure to cop it for your collection. Consumers will be treated to an audible difference (especially on the older cuts, which sound more clearer and fluid) since the tracks have been digitally remastered.

CoKo~Cure.com will be featuring "Who Did It Better: RCA Vs. Simitar" in an upcoming "Discussion Of The Week". You fans will be able to express yourselves by comparing and critiquing the two GH albums (there are big pluses and glaring minuses on both). So get your copies out and get your listen on!
10.29.01 - CoKoBytes > 5: RCA Records: What Is Going On?

On September 19th, 2001, RCA Records closed its Black Music Division under the direction of its parent company and distributor BMG Entertainment. Unfortunately, several RCA employees (including some of our contacts) lost their positions. Newly-signed acts such as Public Announcement and Dante were dropped altogether, while the remaining artists were absorbed by other BMG-owned record labels. Since RCA was hardly a competitive force to be reckoned with in the urban music industry, these artists might benefit from a fresh start on the other labels. This naturally leads us to the more important question that concerns you fans worldwide: What happens to CoKo?

With her 10 year seniority with RCA and the consistent platinum success she enjoyed solo and with SWV, in the end CoKo was the label's most valuable artist. Although Tyrese, Kevon and Cherokee were relocated quickly after the closing, initially RCA was "holding" CoKo for some reason (hence we have not published any information regarding this move until now). However, we have just learned that RCA has finally released CoKo from her contract. Currently, CoKo is exploring several offers from other major record labels. She will also be taking the completed Music Doll album to the new label of her choice. At this point we are still awaiting direction from Ms.Voice as her management goes through this weighty decision-making process. Of course, this postpones the album's release for awhile, as CoKo may do more recording with her new label. But we can expect something to at least impact radio probably in the 1st Quarter 2002.

Knowing that Cheryl is a businesswoman first and foremost, I know she will make a wise move to a label that will prioritize her as an artist. From all of your many letters and posts it is evident that you peeps are "quite hyped" about this change in events, and as fellow fans we are excited too. Truly, "It's About Time" that our girl CoKo was blessed with a "New Beginning"! More updates on this situation will be published as Saeed and I receive them. Keep it locked!
10.26.01 - CoKoBytes > 4: November 6th: SWV in Record Stores!

With the recent closing of their urban music division, it is appropriate that BMG's flagship label RCA Records pay homage to its greatest R&B mainstay success: Sisters With Voices. In tribute to this trio's phenomenal chart domination in the 1990s, RCA will release The Best Of SWV worldwide on November 6th, 2001.

If you recall, SWV: Greatest Hits was released in August 1999, but this was done via another record label (Simitar Beast). That package was mostly comprised of remixes of SWV's chartoppers. The RCA compilation will not focus strictly on the commercial singles; it will also highlight the very best of their craft, including tracks never released to radio. The Best Of SWV will feature 16 cuts and will include digitally remastered versions of all the smash hits i.e. "I'm So Into You", "Right Here/Human Nature" Radio Mix and "Anything".

At the time of this writing, the CD cover features a timeless B&W photo of the girls taken in 1992 (see below). And yes, CoKo's signature nails are in plain sight for all you die-hards out there!
09.12.01 - CoKoBytes > 3: On A Sad Note...

Although this website is dedicated to CoKo, my fellow webmaster Saeed and I wish to offer our condolences to the Haughton and Hankerson families over their recent loss of Aaliyah. She was unquestionably talented, beautiful and down-to-earth, and her contributions to the music industry were memorable. Currently, I reside in the Detroit, MI area, where Aaliyah was raised, and graduated from our School Of Performing Arts in 1997. On Monday, August 27th, a candlelit memorial was held at that school by legions of Aaliyah's fans, and local radio station personalities. Since Aaliyah has been a consistent mainstay at Detroit radio since 1994 (Detroit was the first to jump on "Back & Forth") her death really hit hard for us here in her hometown.

SWV fans will no doubt remember that Aaliyah and the girls worked together in 1994 on "Freedom" (an all-female anthem from the Panther Soundtrack). In fact, Ms.V and I were having a conversation just recently and Aaliyah's new album came up. I remember CoKo mentioned that she and Aaliyah had a "cool" friendship. And "Cool" definitely describes Aaliyah's consummate perception by fans and the industry. In fact it really showed through in the young singer's interviews and performances. It also endeared fans to her and her music. This is why her passing hurts us all so much.

But God is Love and He will remember Aaliyah, as should we. As Saeed put it, her untimely death reminds us of the need to be "totally focused" on reaching our goals...and to enjoy the blessings that God has bestowed on us.
09.12.01 - CoKoBytes > 2: We Got A Resolution!

Question: What does Lil' Kim, Free (co-host of BET's 106th & Park), and CoKo have in common? Well, "Think" about it for a moment... Answer: A BLAZIN' COLLABO of course! Awww, waitaminute! Yes, the CoKo~Cure has finally confirmed details on who's definitely appearing on the first single from "Music Doll"! As we reported previously, the single is titled "Think", an up tempo track laced by The Trackmasters. Lil' Kim and Free will be lending their vocal prowess to the LP version. This is not Lil' Kim's first time working with CoKo; if you recall, Kim, CoKo, Taj, and Lelee performed on "Give It Up" (Release Some Tension, RCA) back in 1997. And, although many may not be aware that Free has mic skills, fans will be blown away with her delivery on "Think". Die-hard SWV fans will be hyped too since Taj and LeLee will be doing their thing on the "Think" remix. This SWV reunion track should squash any negativity, proving that SWV has an enduring "Sister"hood between them. In fact, how sweet would it be to have CoKo, SWV, Lil' Kim AND Free sharing the stage live in concert?!!!

So when you "think" about it, this single is both a reunion AND a resolution of sorts!
09.12.01 - CoKoBytes > 1: CoKoBytes: What Are They?

The CoKo~Cure is pleased to introduce a new forum--CoKobytes! Dispensed frequently from CoKo~Cure.com, CoKoBytes will serve to keep you fans up-to-date on CoKo and many other things. While the "Exclusive News" series was distributed monthly (and even bi-monthly in some instances), CoKobytes will be dropping knowledge on you fans on a weekly basis! These Bytes of information will be released upon availability of course, and is made possible courtesy of our sources at BMG, RCA Records and CoKo herself. Subject matter for the CoKobyte series will not be limited simply to updates on the "Music Doll" project. Other items featured will range from debate topics (i.e. "Who Ruled 1992-94? TLC Vs. SWV"), hot news updates, televised and media appearance reminders, "Test Your SWV/CoKo Knowledge?" Quiz items, and much, much more.

Listmembers and users who have CoKo~Cure e-mail will receive the Bytes first, since the CoKo~Cure prides itself as a site dedicated to die-hard CoKo & SWV fans. However, eventually, the updates will be loaded on the site for all to access.
08.14.01 - Exclusive News IX:The OMA Nominations Are In!

Well people, it's on and poppin'--again!!! We are pleased to announce that the CoKo~Cure has (once again) been nominated at the 2001 Online Music Awards (The People's Choice Award for the Internet)! If you recall, it was only a year ago that the OMAs placed the Cure in the Top 100 as one of the premiere music websites on the net. The Cure prevailed that year over more than 2,000 sites from around the world. However, to secure the Cure's position in this year's OMA's we truly need YOUR assistance! It is important that all CoKo/SWV fans vote as a collective at Online Music Awards. We have only 3 weeks to get our ballots submitted into the OMA online system.

The number of votes the CoKo~Cure receives will determine its placing in the OMAs. Your support is greatly needed, and we ask that you will let your voice be heard again! The process takes only seconds, and it takes but a click to submit your vote. Please vote for your Lady With A Voice--CoKo--so she can be represented properly at the 2001 Online Music Awards!